Our Goal Is Making Your Child Feel Welcome
From start to finish, our team focuses on making your child comfortable. We accommodate every step for their abilities and their curiosity. Just like we keep you informed about your child's vision, we get down on their level to walk them through their vision care.
Whether your child enjoys the play area or earns a prize token, we strive to make the experience positive. We want to teach kids the value of eye care. Fewer than 15% of preschool-aged kids receive an eye exam, and school screenings only assess eyesight—overlooking eye health. An eye exam can help track your child's visual development and evaluate their eye health as they grow.
How Often Should Your Kid Have an Eye Exam?
How frequently kids need an eye exam depends on individual factors, including age, vision needs, and medical history.
Assessments change from infancy through adulthood, but every age can benefit from a regular checkup. We welcome babies as young as 6 months and offer free screenings for infants. We also recommend at least one eye exam at 1–2 years of age and then annually for school-aged children.
Visual Health Is More than 20/20
Many people think seeing distances clearly—or clearly enough—is a sign of good eye health. But 20/20 vision only compares your eyesight to the average. A thorough exam evaluates eye health and multiple aspects of vision, like peripheral or color vision.
Eye exams for infants and kids assess visual skills they need to interact with and process the world around them. Just like learning to walk is a developmental milestone, kids experience visual developmental milestones. From recognizing objects to hand-eye coordination, vision can affect your child's success in school and throughout their life.
Understanding Signs of Kid's Vision Problems
Vision is the processing of information, which is why 80% of what children learn is visual. When your child has an eye or vision problem, it can limit your child's potential in school or social situations. We want to help support your child's growth and development.
With regular eye exams, we track how their visual skills change and plan individualized care for their needs. Parents and loved ones can also keep an eye at home, so you can schedule an eye exam when you notice signs.
Look for Signs in Your Child's Eyes
Many eye conditions and diseases develop with no early visible symptoms, which is why routine comprehensive eye exams are necessary. But how your child's eyes look is still an essential step at every checkup. Some signs you can see can include:
Eyes that don't line up (crossed eyes, turning in or out)
Eyelids are red-rimmed, swollen, or crusted
Eyes are frequently watery or red
Watch for Behavioral Signs
How your child acts can often be the only noticeable sign your child is experiencing visual challenges. Some actions can include:
Closing or covering one eye
Skipping lines when reading
Rubbing eyes frequently
Tilting or thrusting head to see
Squinting or frowning
Holding objects close or sitting too close
Acting cranky or complaining about close-up work
Having a shorter attention span than their peers
Listen to What Your Child Says
Children may not tell you they're experiencing vision problems. Your child may be too young to understand what they're seeing is abnormal, or they may not realize their symptoms are related to vision. But some symptoms your child may complain about include:
Eyes feeling scratchy or burning
Feeling dizzy, sick, or nauseous
Seeing double or blurred vision
Feeling tired or closing eyes after close-work
Schedule Your Kid's Visit Today
Regular eye care from an early age can give your child more tools to promote a lifetime of success. We can monitor for signs of eye problems or disease and work with you to support their visual development. Whether they need a personalized vision program or a cute pair of glasses, we look forward to welcoming you and your child at Child & Family Eyecare.
Book Appointment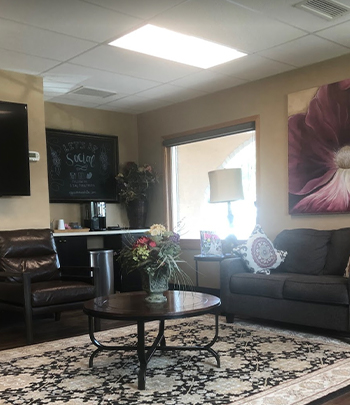 Visit Us
Our building is on North Maize Road, north of West Central Avenue. Free parking is available steps from our doors.
746 N. Maize Rd

Wichita

,

KS

67212
Hours of Operation
Monday

:

8:00 AM

–

5:30 PM

Tuesday

:

8:00 AM

–

5:30 PM

Wednesday

:

8:00 AM

–

5:30 PM

Thursday

:

8:00 AM

–

5:30 PM

Friday

:

8:00 AM

–

5:30 PM

Saturday

:

Closed

Sunday

:

Closed
Styles for You & Your Family