Managing Your Child's Eye Growth
Growing is a big part of childhood, but too much growth too fast causes growing pains. Just as your kid's limbs can hit a growth spurt, their eyes can also grow. Too much lengthwise eye growth changes how light enters the eye, resulting in myopia (nearsightedness or shortsightedness).
Myopia usually develops between ages 6–12 but often grows fastest between 7–10 and slows by age 20. In addition to causing blurred distance vision, myopia also affects eye health, increasing the risk of vision loss in adulthood.
Myopia control helps slow eye growth in childhood to preserve vision.
Myopia is a common vision disorder affecting over 40% of Americans. Health experts have tracked rising numbers for decades, estimating nearly 50% of the global population will be myopic by 2050.
Myopia is often caused by a mix of genetic and environmental factors. While kids are more likely to have myopia if at least one parent has it, other risk factors include too-much close work or screen time.
How We Help Your Child Manage Myopia
At Child & Family Eyecare, helping kids feel welcome and educated is a priority. When we prescribe a myopia control method, we consider your child's individual needs, from lifestyle to eye health. We may recommend a combination of methods, including tips for balancing close work and distance-based visual activities.
Atropine Eye Drops
Atropine eye drops can significantly reduce myopia progression. Various low-dose concentrations of eye drops have been studied, with results showing about a 33% to 50% slower growth rate.
Atropine relaxes the eye's focusing mechanisms to encourage slowed eye elongation. Allowing the eye to temporarily relax reduces eye strain or fatigue caused by compensating for light inaccurately focusing inside the eye.
The treatment is usually administered before bedtime, as atropine can cause blurred vision and light sensitivity. We can go over the treatment in-depth at your child's next eye exam.
Multifocal Contact Lenses
Soft contact lenses designed for myopia control help kids enjoy glasses-free vision. The daily-disposable lenses are low-maintenance and can be safe and effective even for kids as young as 7.
Multifocal contact lenses feature multiple focal zones to correct blurred vision and slow eye growth simultaneously. The center of the lens helps light focus directly on the retina (light-sensing tissue at the back of the eye) to improve distance vision. An outer ring corrects peripheral defocus—caused by excess light focusing behind the retina, stimulating eye growth.
Ortho-k
Orthokeratology (ortho-k) uses a custom rigid gas permeable (hard) contact lens worn overnight. The lens gently reshapes the eye's surface (cornea) to correct how light is focused. Then, the lens is removed during the day. The cornea retains the improved shape, preventing the retina (tissue at the back of the eye) from receiving the signal to keep growing.
Ortho-k allows kids to enjoy daytime clearer vision without wearing glasses or contact lenses. The method is also effective, helping to slow myopia progression by nearly 50% compared to standard glasses or contact lenses.
How Does Myopia Affect Long-Term Eye Health?
Myopia progresses as eye growth continues throughout childhood. As the eye lengthens, distance vision becomes more and more blurry. Eye tissue stretches and weakens, leading to a greater risk of developing cataracts, glaucoma, retinal tears, and myopic macular degeneration.
Controlling myopia as soon as possible helps prevent significant eye growth and decreases the risk of vision loss later in life.
Contact us today to book your child's eye exam so we can discuss your child's vision needs.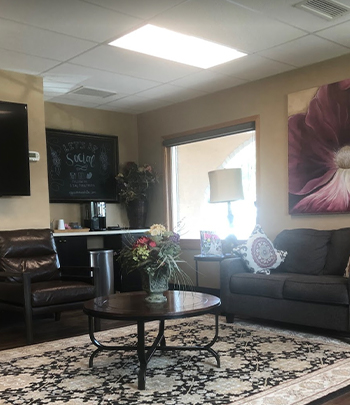 Visit Us
Our building is on North Maize Road, north of West Central Avenue. Free parking is available steps from our doors.
746 N. Maize Rd

Wichita

,

KS

67212
Hours of Operation
Monday

:

8:00 AM

–

5:30 PM

Tuesday

:

10:00 AM

–

6:30 PM

Wednesday

:

8:00 AM

–

5:30 PM

Thursday

:

10:00 AM

–

6:30 PM

Friday

:

8:00 AM

–

5:30 PM

Saturday

:

Closed

Sunday

:

Closed
Styles for You & Your Family