Train Your Vision to Support Your Life
Seeing clearly is only one part of vision. Healthy vision can make a difference in understanding what you see or learn. When vision functions poorly, it can be exhausting trying to work around headaches, eye strain, or double vision. Your child may feel frustrated focusing on school work or act out in the classroom because of poor concentration.
When vision problems impact your quality of life or your child's ability to learn, vision therapy can help. It's a customized program developed to help improve or treat visual conditions.
Get in touch with our team to learn more.
Evaluating and understanding your vision is crucial for developing a personalized vision therapy plan. A comprehensive eye exam is the first step. We assess the entire visual system, from eye tissue to visual skills. Then, we can determine an appropriate strategy to help you achieve more comfortable, effective visual function.
Our goal is to make your vision and your quality of life better.
What Vision Problems Can Vision Therapy Help?
Vision therapy can help with various vision and eye-related conditions, from poor concentration to eye misalignment. The methods are tailored to your vision needs. Although vision therapy is commonly recommended for kids, a customized program can help patients of all ages.
Beginning treatment in early childhood can help with visual development problems, but there's no age limit on training your brain. Vision therapy works with the entire visual system—the eyes and the brain—to enhance visual processing.
Can Vision Therapy Correct Blurred Vision?
Blurry vision can be a symptom of a visual processing problem, eye disease, or a refractive error. Vision therapy can benefit patients experiencing blurred vision because of poor visual skills. But refractive errors and many eye diseases are caused by changes to eye tissue. Our team can evaluate your eye health and recommend appropriate management.
Refractive errors are commonly improved with glasses or contact lenses. However, myopia control in childhood can help prevent worsening nearsightedness and vision impairment.
Frequently Asked Questions
Have a few questions before you give us a call? Take a look at a few frequently asked questions or schedule an appointment so we can answer any additional questions.
At Child & Family Eyecare, we want to help patients feel comfortable and empower eye care decisions through education. We're happy to chat at your next visit whether you have specific concerns or just want to know more.
How does vision therapy work?
Vision therapy is a customized program, so the exercises and tools can vary depending on your or your child's vision needs. Typically, you'll meet with one of our team 1–2 times weekly to learn and perform a set of exercises. Sessions at our practice may also include tools, techniques, or technology to assess your progress.
We'll also prescribe exercises and additional recommendations to practice at home between appointments.
When is it too late for vision therapy?
Vision therapy isn't just for kids. Although training visual skills early can help with visual development, patients of any age and with many types of vision problems can benefit from vision therapy. The brain performs functions crucial to understanding and experiencing visual information. And the brain is capable of neuroplasticity throughout our lives—meaning it can grow, change, and adapt whether we're 2 or 92.
How long does vision therapy take?
The strategies and treatment length are completely tailored to your needs. The length of time or how many sessions will depend on the problem type and your personal response. You may experience significant improvement after several sessions or several months. We work with you to achieve your goals and support you throughout the entire process.
Do You or Your Child Need Vision Therapy?
Let's talk about how our team can support you or your child. Book an eye exam now to learn more about our vision therapy clinic.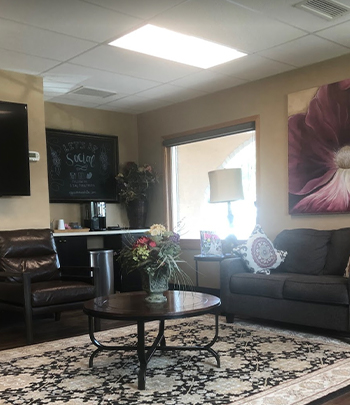 Visit Us
Our building is on North Maize Road, north of West Central Avenue. Free parking is available steps from our doors.
746 N. Maize Rd

Wichita

,

KS

67212
Hours of Operation
Monday

:

8:00 AM

–

5:30 PM

Tuesday

:

8:00 AM

–

5:30 PM

Wednesday

:

8:00 AM

–

5:30 PM

Thursday

:

8:00 AM

–

5:30 PM

Friday

:

8:00 AM

–

5:30 PM

Saturday

:

Closed

Sunday

:

Closed
Styles for You & Your Family