Meet the doctors who make Child & Family Eyecare the best!

---
Patrick J. Pirotte, O.D, FCOVD, Dipl. ABO
Dr. Pirotte is a native Wichitan. He attended St. Patrick's grade school and Bishop Carroll High School. He has always had an interest in music and made his stage debut at age three, singing in The Sound of Music. The primary reason he pursued optometry was a result of the various vision problems he encountered as a child. Crossed eyes, a lazy eye, and visually related learning problems were all part of his life growing up. He feels it is a calling to help kids who are suffering from the same difficulties as he did. "It is wonderful to know more, and have better tools to cure them than were available when I was a child," said Dr. Pirotte.
Dr. Pirotte attended Wichita State University and the University of Kansas studying piano performance and human biology. He then chose the Southern California College of Optometry because of its nationally recognized reputation for pediatric vision training. He graduated in 1985 with honors.
The second half of his career is devoted to both patient care and the teaching of student doctors, which he has been doing since 2000. He is affiliated as a clinical professor with four colleges of Optometry:
· Illinois College, Chicago, Illinois
· Northeastern Oklahoma State University, Tahlequah, Oklahoma
· Southern College, Memphis, Tennessee
Dr. Pirotte developed the largest practice in Kansas devoted to children's vision care. Thus the practice name, Child & Family Eyecare. Together with his partners, they have a total of 56 years of experience in vision care.
Child & Family Eyecare was selected to start a pediatric residency certified by the American Council on Optometric Education. This office is one of only 12 in the US to be chosen for this honor.
What does this mean for you? State of the art care from long experience, with new young doctors and their new knowledge combined!
The commitment to you and your children is without equal. You are considered part of our family and all the doctors were picked by Dr. Pirotte to carry on that tradition. Thank you for trusting us with your precious vision!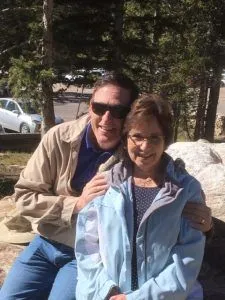 ---
Brandon R. Fisher, O.D.
Dr. Brandon Fisher joined the staff at Child and Family Optometry in July of 2006 after graduation from Oklahoma's Northeastern State University College of Optometry. However, Dr. Fisher was no stranger to south-central Kansas. He grew up in Burrton, as small community of approximately 1,000 in Harvey country about 30 minutes northwest of Wichita. When it came time to put down roots and start his practice, Dr. Fisher and his wife Laura decided that they wanted to come home to Kansas. We're so glad they did! Dr. Fisher has become invaluable to our practice in treating eye disease, with a special emphasis in glaucoma and visual complications due to diabetes. Glaucoma is a leading cause of blindness that destroys nerve fibers in the back of the eye. Our office has the latest technology in diagnosis and treatment of glaucoma. Our instruments allow for the diagnosis of glaucoma in its earliest stages, as well as give us a precise measure of the progression of the disease in known glaucoma patients. In addition, Dr. Fisher does extensive work in diagnosing and treating vision loss due to macular degeneration and diabetes.
Dr. Fisher and Laura have two beautiful children: a daughter Kennedy and a son Aiden. Being a parent himself, Dr. Fisher understands how important good visual development is in the life of a young child. Because it's so important to catch problems early, Dr. Fisher is happy to provide free vision screenings to infants from ages 6 months to 3 years. Good visual skills are also critical to children in school, who must use their eyes many hours each day to read and learn. Dr. Fisher has a strong commitment to treating vision-based learning problems. When your school-aged child sees Dr. Fisher for an exam, he will run tests to ensure your child has the visual skills necessary to succeed in school.
---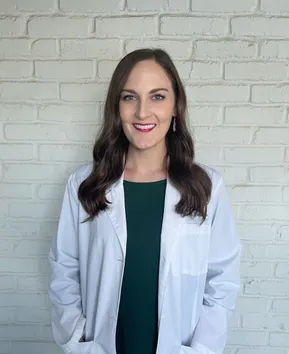 Ann Marie E. Sparacino, O.D.
Dr. Ann Marie Sparacino was raised in Salina, Kansas. She attended the University of Kansas in Lawrence, where she graduated with a Bachelor of Science in Cellular Biology. While attending KU, she enjoyed working as a teaching assistant in the Anatomy & Physiology lab. She graduated from Northeastern State University Oklahoma College of Optometry in 2021. During optometry school, Dr. Sparacino served as the American Optometric Student Association Trustee, representing her college of optometry on a national level. She was a member of the Beta Sigma Kappa Optometric Honor Society and currently serves on the AOA Sports & Performance Vision Committee. Dr. Sparacino was awarded the Good-Lite Pediatric Award and the COVD Excellence in Vision Therapy Award for her passion for children's visual development.
Dr. Sparacino enjoys spending time with her fiancé, Todd, and their two dogs, Rocko and Matilda. In her spare time, she loves traveling, hiking, cooking, and spending time with family.
Dr. Sparacino is excited to join the Child & Family Eye Care team and looks forward to serving the Wichita community.
---
Meet the staff that keeps us going!
---
Jessie H.
Office Manager
Jessie has been with our office since 2017 and manages our practice, staff and coordinates with all the doctors and residents to ensure that our day is running efficiently and smoothly. She is trained on all areas of the office and is our go-to for any questions! Jessie and her husband Patrick share two wonderful children, Isabelle and Patrick IV. Jessie enjoys spending time with her family, loves to craft and be outdoors gardening.
---
Jessi B.
Front Desk Coordinator
Jessi originally started with us in 2015 and is well versed in all areas of the office she is currently the first person you see who will welcome you to the practice. Jessi is a mom to twin boys Logan and Oliver and her fur baby Lily. She enjoys traveling with her husband Kevin and playing volleyball in her spare time.
---
Autumn
Billing Coordinator
Autumn is your go to for all your billing needs. She verifies and processes all insurance claims. If you have any questions regarding your benefits, she is your girl! Autumn has been with us since fall of 2017. She is extremely dedicated and detail oriented. Autumn is married and has two fur babies, Bella and Journey. She loves to read and see any new movies that are out!
---
---
Jennifer
Patient Coordinator
Jennifer joined our team in the fall of 2020 as a clinical optician and has moved into being the person who manages all communication with our patients. She is from Nebraska but moved to Kansas to attend Hesston College and Wichita State University where she received her bachelor's degree in marketing. Jennifer is married to Marcus and they have two girls, Olivia and Gianna. She loves KC Royals baseball and going on walks as a family with their German Shepard Maya.
---
---